"Knowing God and Living in His Power" ~ 2 Peter 1:3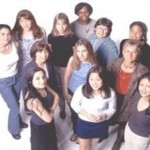 Challenging and equipping women to become mature, devoted disciples of Jesus Christ, through intentional discipleship training that includes outreach, fellowship, Bible Study, and service opportunities.
We are women committed to encouraging and equipping other women in their everyday life through Bible study and meaningful relationships—as together we become mature, devoted disciples of Jesus Christ.
We believe the Bible has all the answers we need for life in today's world and the instruction given in Titus 2 is still an effective way to "spur one another on toward love and good deeds" (Heb. 10:24)
Who is Involved in Women's Ministry?
Ladies in all seasons of life and from all backgrounds: young and old, married and single, mothers of little ones, teens or grown children. Each is vitally important to the others for true godly relationships and growth
Why Women's Ministry?
To glorify God and provide ways for women to meet new friends, build relationships, study God's Word together, learn how to apply it to our lives, and have fun all at the same time
How Can I Get Involved?
Discipleship & Mentoring – Intentional relationship & opportunity development
Bible Study – We study God's Word for all it's worth! As a result of our in-depth study, we learn what God has to say and how to apply it to our lives
Morning Glories – Join us as we search for more intimacy by studying together in a small group setting
~ Fellowship
Fiber Friends – God uses our talents in mysterious ways! Be a channel for God's love as we join together to knit and crochet for family and charity
Friends Together – Get better acquainted with other ladies in casual, informal settings. Topics, themes, locations and activities vary
Sisters in Christ – "You're never alone with a Sister" – fellowship and encouragement of one another in His Name
~ Prayer
Ladies' Morning of Prayer – Spend time with other ladies praying for our families, church, community, and country
Sisters in Christ – prayer and encouragement for our Missionaries in His Name
---